Great Gift Ideas for Your Loved One #2
The Real Love Doctor Gift Ideas Number 2
Hello readers

and avid letter senders, before I hit another Ask the Love Doctor about love, life and relationships segment, I will give out another tips and tricks to all of you out there with partners or even just a loved one alike.
Last time out we talked about giving them some out of town or out of the country tickets beneath their pillows or enclosed in a letter of appreciation, I can only

imagine the happiness one will feel

to uncover that kind of gift! if you really feel a special connection with someone, or if you have fallen deeply in love with someone, many times you have gone into thinking if there are stuff you can personally give to that special someone that you love. Most of the time you just ran out of great gift ideas right? Never fear just return here once so often and the love doctor will show you great gift ideas all the time.
For today we go physical and we will tackle on the one thing that keeps everybody feel connected to the person they love, and that is the sense of touch! What else is there to boost the senses than a good touchy and relaxing back rub or better known as the back massage!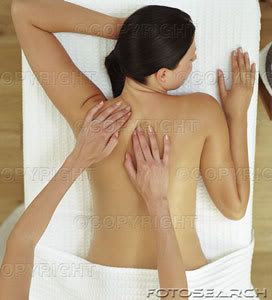 be gentle

Every one is stressed nowadays, with all the bustling of city life and family life, so if you and your partner do get a chance to be sitting or lying away somewhere comfortable, just shock them and start giving them a soft massage on their backs! This will work wonders on the relationship and will surely make your

partner appreciative of this special gift

that you have offered to them.
To get you going, I have my own techniques in doing a back rub, but for now you just need to know the general steps and info. More on back massages soon! Enjoy the info below
Setting the mood:
Before giving a massage, let the person take a

hot bath or shower

. This will help initiate the relaxation process. Light some aroma candles and play some soothing music to set the mood.
Massage Steps:
1: Lie the person face down on a flat, comfortable surface, such as a floor mat or firm bed.
2: Stand by his/her side, and place one hand on the lower back and one hand between the shoulder blades, over the heart.
3: Apply thumb pressure on both sides of the spine simultaneously and warm up the back. First start at the lower back and knead with your thumbs up gently to the neck area.
4: Apply massage oil with a smooth, delicate stroke. With one long stroke, slide your palms on either side of the spine going downwards to the pelvis.
5: Continue gliding your hands on other parts of the back and then on both sides of the neck to the base of the head.
6: Massage the lower back area and move up slowly to the shoulders. Place the first and index fingers of each hand on either side of the spine. Make rhythmic, overlapping movements with the fingers all the way down the back.
7: Apply pressure as if you are kneading, on the muscular areas at the top of the shoulders and the mid-back area.
8: Using your fingers, apply pressure on areas that feel tight or hard, called as knots.
9: Perform circular massage strokes, clockwise and anti-clockwise with your fingertips on the muscles close to the spine and around the shoulder blades.
10: Then gently rotate the arms, one at a time, for proper blood flow.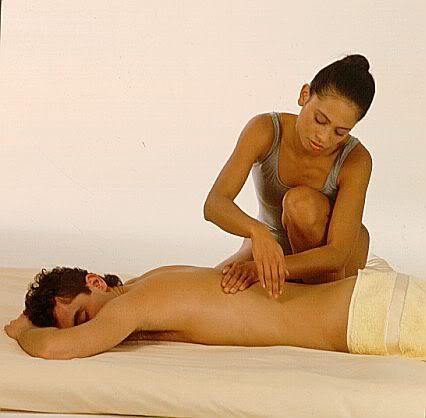 do em often too!

Massage Tips & Warnings
Avoid working directly on the spine. When massaging near the spine, use extremely gentle strokes without any pressure. Massage on either side of the spine instead.
When massaging, use slow movements for a soothing and calming effect, and fast movements for a stimulating effect.
Do not massage on broken skin, blisters or open areas, where there is a possibility of infection.
Make massage a relaxing experience, and do not hurry things.
Till next time!
The Real Love Doctor Signing out
source of the back massage procedure: http://www.drgranny.com/massage/?p=6


you can
COMMENT HERE